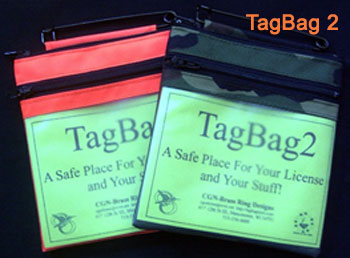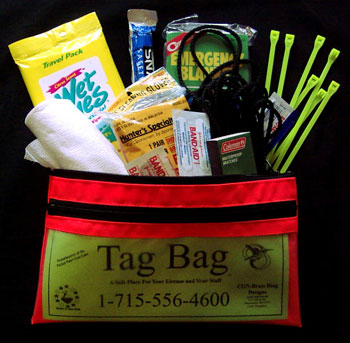 Items in bag are not included.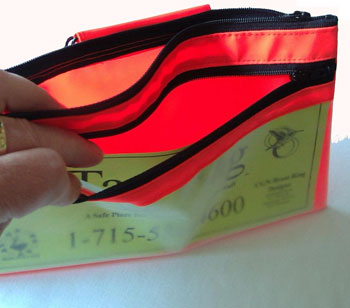 Fabrics may vary slightly.
Our hunting
Tag Bag
is the most innovative hunting back tag license holder available.
It provides 2 water resistant storage areas. One for a hunting license and the other, a safe place for all of those little things hunters like to carry - like: dressing gloves, zip ties, rope, tape, band aids, space blankets, light sticks, tissue, and wet wipes.
The zippers make it easy to insert your hunting license and supplies into the pockets, and the water resistant fabric keeps the gear protected from the elements.
The zippers are quiet, and allow you to gain entry to the pockets with gloves on.
The best feature of all, is you only have to pack the hunting
Tag Bag
once for the entire hunting season and you don't need any tape to do so.
No more pockets full of small items that easily get lost in the woods!
Features:
Constructed of water resistant pack cloth
YKK® zippers are convenient to use
Non-glare window
Available in Blaze Orange and Camo
2 Sizes Available:
TagBag 1
Bag - Approx. 5 1/4" x 9 1/2"
Window - Approx. 3" x 9"
TagBag 2
Bag - Approx. 5 1/2" x 5 1/2"
Window - Approx. 5 1/2" x 3 1/2"
Benefits:
Water resistant
Room for supply storage
Pack once for the season
Easy to open and close
Easy to insert tags
No hook and loop
No gray tape!
Testimonials:
"...about time someone came up with this"
"...I need one for me and all my hunting buddies."
"...great for the kids, everything in one place."
"...It is so easy to get my tag in. No tape!"
"...I can finally get all that stuff out of my pockets."
"...It is amazing how much stuff you can get in."
$10.00